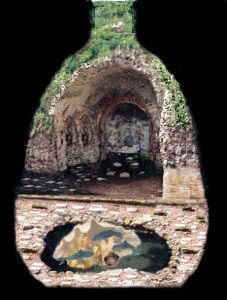 Anecdote of a Bottle Garden

I line a thirteen-gallon jar with sand
and gravel, tamping down a loamy base
for foliage, a place for ants to forage.
I build a nymphaeum with integrated
alcoves for Diana and her deer,
a stone clad Virbius and Egeria.

Outside the monument, I lay quartz slabs
of serpentine, violet granite and slate;
then I plant ferns and grasses in between.

Water trickles down from terracotta tiles,
painting marble walls with mossy woodland
angels, filling the lake where lizards laze.
~Coral~